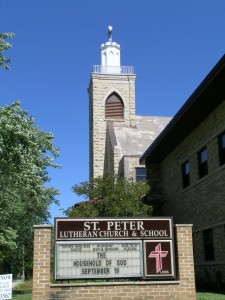 WELCOME!
St. Peter Evangelical Lutheran Church is a member congregation of the Lutheran Church-Missouri Synod that has stood in the heart of Joliet, Illinois, for over 150 years.
Like the apostle from whom our congregation takes its name, we are ordinary people whom Jesus Christ has called to follow Him. Like Peter, despite our weakness and sin, we look to Jesus alone for our salvation, confessing to Him and before the world, "You are the Christ, the Son of God!"
Our congregation believes, teaches, and confesses the Christian faith taught in the Holy Scriptures and faithfully witnessed in the Lutheran Confessions, the Book of Concord of 1580. Our worship reflects the glory of the Triune God and our communion in the one, holy Church of all times and places as we observe the historic liturgy. Our children and the children of our community are diligently instructed in the riches of the Christian faith at St. Peter using Dr. Martin Luther's Small Catechism.
At the center of St. Peter's worship, teaching, and life together is Jesus Christ the crucified. He is with us, proclaiming the good news that God is reconciled to us sinners because of His blood shed for us on the cross. He washes away our sins in Holy Baptism and heals us, giving us His very body and blood to eat and drink for the forgiveness of our sins. He gives us new life in His Body, the Church, and leads us to the fullness of joy that awaits us in the world to come.
We welcome you in His name and invite you to join us in our life together as His disciples!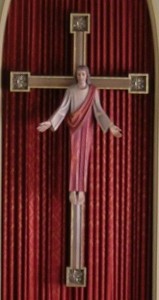 Our Interim Pastor
Rev. Dr. Eric Stumpf
Worship Services
Divine Service (with Holy Communion): Sundays at 9:00am
Bible Study
Sundays at 10:30am
Sunday School — Sundays at 10:30am
Radio Broadcast
Sundays at 11:00 am, WJOL 1340 AM
WJOL now does a 'live stream' on their website (wjol.com). Just go to their website and click on the "LISTEN LIVE" link at the top of their page.
……….
Church Phone Number: (815) 722-3567
~ Church Office (Secretary Desk) (Ext 301) Michele Ryjewski
~ Church Office Hours – Monday – Friday, 8:00am – 1:00pm
*-*-* Summer Church Office Hours (June thru Mid-August) Monday – Thursday, 8:00am – 1:00pm
~ Pastor's Office (Ext 304) **
*while we have an Interim Pastor, please call the church office at extension 301.*
~ Financial Office (Ext 303)
Church Fax Number: (815) 722-6544
Church Email address: stpeterjoliet@aol.com
……….
Amazon Smile Program
Amazon Smile for St. Peter Lutheran Church
Click on the link above to Support St. Peter Lutheran Church by shopping at AmazonSmile.
* Amazon will donate 0.5% of the price of your eligible AmazonSmile purchases to St Peters Lutheran Church whenever you shop on AmazonSmile.
* AmazonSmile is the same Amazon you know. Same products, same prices, same service.
……….
Calendar
Our online calendars are up and running. Please click on the "calendar" link on the left side of the home page to see each month's calendar.
……….
Upcoming Events and Meetings
……….
February
……….
Wednesday, February 17 — 7:00pm — Ash Wednesday Divine Service
Sunday, February 21 — 9:00am — Divine Service
Wednesday, February 24 — 7:00pm — Wednesday Lenten Service
Sunday, February 28 — 9:00am — Divine Service
……….
March
……….
Wednesday, March 3 — 7:00pm — Wednesday Lenten Service
Sunday, March 7 — 9:00am — Divine Service
Wednesday, March 10 — 7:00pm — Wednesday Lenten Service
Sunday, March 14 — 9:00am — Divine Service
Wednesday, March 17 — 7:00pm — Wednesday Lenten Service
Sunday, March 21 — 9:00am — Divine Service
Wednesday, March 24 — 7:00pm — Wednesday Lenten Service
Sunday, March 28 — 9:00am — Palm Sunday Divine Service
……….
April
……….
Thursday, April 1 — TBD — Maundy Thursday Service
Friday, April 2 — TBD — Good Friday Service
Sunday, March 4 — 9:00am — Easter Sunday Divine Service
……….
Upcoming Sermon Titles
Please join us as our Interim Pastor, Rev. Dr. Eric Stumpf leads our services each week. They can be found posted on Facebook. You can also call the church office to have yourself added to our email list.
Feb 21 — "Dealing with Temptation" — Mark 1:12-15
Feb 24 — "I Learn to Pray for the Church" — John 17
Feb 28 — "Why Take Up the Cross" — Mark 8:27-38
Mar 3 — "I Learn to Yield My Will" — Matthew 26:36-46
Mar 7 — "They Believed The Scriptures" — John 2:13-22
Mar 10 — "I Learn the Attitude of Prayer" — Luke 23:26-34
Mar 14 — "Shall Not Parish" — John 3:16
Mar 17 — "I Learn to Pray in Every Need" — Matthew 27:45-49
Mar 21 — "He Knew" — Mark 10:33-34
Mar 24 — "I Learn to Pray to the King" — Luke 23:42-43
Mar 28 — "Then They Remembered" — John 12:19
April 1 — "Renewal" — 1 Corinthians 10:17
April 2 — "He Did It" — John 19:30
April 4 — "The Ordinary Collides with the Extra-ordinary" — John 20:27-31
April 11 — "Nothing But the Truth" — John 20:27-31
April 18 — "A Change of Mind" — Luke 24:36-49
April 25 — "The King of Love My Shepherd Is" — John 10:11-18
……….
We are happy to be having services again in our beautiful church.
We are still in the midst of this pandemic, so we will be following guidelines set to help us all stay safe and healthy while we worship together as a church family. Please see our new practices here …
Safe Service and Communion Practices
Masks will be worn by everyone into the building. An usher will be at the entrance with some disposable masks available for those that do not have/forget a mask. Once you are in the pew, you may remove your mask until the end of the Service. Please do not leave it lie in the pew. Suggestions would be to leave it around your neck, or place in your purse or pocket. Please put it back on prior to exiting your pew at the end of the Service.
All doors into and throughout the building will be propped open so that it will be unnecessary to touch any of those surfaces. We ask that you go directly to your seats to avoid congregating in the Concourse.
An Usher will be operating the elevator for one occupant at a time. We will have hand sanitizer available at the top and bottom of the staircase in the Concourse for use if you use the banisters. There will also be a table with Bulletins on it. Please pick one up and then take it home with you as a reference throughout the week for prayers, birthdays, and anniversaries. A basket for your envelopes or others gifts will be on the table also. We will not be using hymnals or registration cards. The entire service will be in the Bulletin. The Usher will assist in seating as we will try to seat one person/couple/family group in the middle of a row with empty rows in between. Distancing is of utmost importance.
During the Service we will not be using the pew kneelers.
Our Communion Service will be as close to our present Service as is possible. However our procedure will change that one side of the church will commune first followed by the other. Again, distancing. Pastor will sanitize his hands prior to Communion. We will approach the altar in the CENTER aisle. Pastor will be at the front, masked, serving the host into your hand. After receiving the host, you will move to the Elder (masked) to your right/left and take a cup of wine from the tray. (Trays will be at half capacity to make it easier to take a cup out without touching any others.) There will be a basket on the windowsill for the disposal of your cup. Please maintain distance as you are waiting in the center aisle for communion. We ask that you consider wearing your mask up to communion. It can be pulled down as you take communion and pulled back up when you are done. Couples or families can approach Pastor together. After one side of the church has communed, the other side will proceed.
At the end of the Service you will be ushered out starting with the back rows to avoid groups congregating in the aisles. Please remember to put your mask back on prior to exiting your pew. We are not to congregate in the Concourse. Conversations are to happen outside with proper social distancing and with masks on. Please take anything with you that you have used during the service.
Bible Study will be held each week in the Sanctuary after the service. There will NOT be a Fellowship Hour until further notice.
Although this seems very awkward or stilted, it is the Council's belief that we must be very prudent in our procedures to avoid the chance of illness and in compliance with Illinois government directives. (Romans 13:1 ff)
Thank you for your patience and understanding with these procedures.
……….
……….
……….
……….