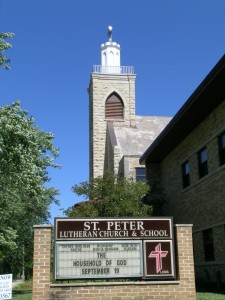 WELCOME!
St. Peter Evangelical Lutheran Church is a member congregation of the Lutheran Church-Missouri Synod that has stood in the heart of Joliet, Illinois, for over 150 years.
Like the apostle from whom our congregation takes its name, we are ordinary people whom Jesus Christ has called to follow Him. Like Peter, despite our weakness and sin, we look to Jesus alone for our salvation, confessing to Him and before the world, "You are the Christ, the Son of God!"
Our congregation believes, teaches, and confesses the Christian faith taught in the Holy Scriptures and faithfully witnessed in the Lutheran Confessions, the Book of Concord of 1580. Our worship reflects the glory of the Triune God and our communion in the one, holy Church of all times and places as we observe the historic liturgy. Our children and the children of our community are diligently instructed in the riches of the Christian faith at St. Peter School using Dr. Martin Luther's Small Catechism.
At the center of St. Peter's worship, teaching, and life together is Jesus Christ the crucified. He is with us, proclaiming the good news that God is reconciled to us sinners because of His blood shed for us on the cross. He washes away our sins in Holy Baptism and heals us, giving us His very body and blood to eat and drink for the forgiveness of our sins. He gives us new life in His Body, the Church, and leads us to the fullness of joy that awaits us in the world to come.
We welcome you in His name and invite you to join us in our life together as His disciples!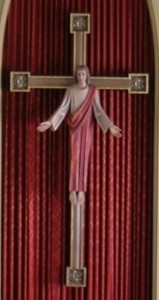 Our Pastor
Rev. Karl R. Hess
Worship Services
Divine Service (with Holy Communion): Sundays at 9:00am
Evening Prayer Service: Every Thursday at 6:00pm
Bible Study
Thursdays at 10:00am
Sundays at 10:45am
Sunday School — Sundays at 10:45am
Book of Concord Study — 2nd Thursday of each month at 7:00pm
Radio Broadcast
Sundays at 11:00 am, WJOL 1340 AM
WJOL now does a 'live stream' on their website (wjol.com). Just go to their website and click on the "LISTEN LIVE" link at the top of their page.
……….
Church Phone Number (815) 722-3567
~ Church Office (Secretary Desk) (Ext 301) Michele Ryjewski
~ Church Office Hours – Monday – Friday, 8:00am – 3:00pm
~ Pastor's Office (Ext 304) Rev. Karl Hess
~ Financial Office (Ext 303)
Church Email address: stpeterjoliet@aol.com
……….
Amazon Smile Program
Amazon Smile for St. Peter Lutheran Church
Click on the link above to Support St. Peter Lutheran Church by shopping at AmazonSmile.
* Amazon will donate 0.5% of the price of your eligible AmazonSmile purchases to St Peters Lutheran Church whenever you shop on AmazonSmile.
* AmazonSmile is the same Amazon you know. Same products, same prices, same service.
……….
Upcoming Events and Meetings
……….
FEBRUARY
……….
2018 Lent and Easter Season Schedule
Wednesday, February 14th — 9:15am & 7:00pm — Ash Wednesday Divine Services
Sunday, February 18th — 9:00am — First Sunday in Lent (Invocabit)
Wednesday, February 21st — 9:15am & 7:00pm — Wednesday Lent Services
Sunday, February 25th — 9:00am — Second Sunday in Lent (Reminiscere)
Wednesday, February 28th — 9:15am & 7:00pm — Wednesday Lent Services
Sunday, March 4th — 9:00am — Third Sunday in Lent (Oculi)
Wednesday, March 7th — 9:15am & 7:00pm — Wednesday Lent Services
Sunday, March 11th — 9:00am — Fourth Sunday in Lent (Laetare)
Wednesday, March 14th — 9:15am & 7:00pm — Wednesday Lent Services
Sunday, March 18th — 9:00pm — Fifth Sunday in Lent (Judica)
Wednesday, March 21st — 9:15am & 7:00pm — Wednesday Lent Services
Sunday, March 25th — 9:00am — Palm Sunday (No Bible Classes)
Thursday, March 29th — 9:15am & 7:00pm — Maundy Thursday Services
Friday, March 30th — 1:00pm & 7:00pm — Good Friday Services
Saturday, March 31st — 7:00pm — Easter Vigil Divine Service
Sunday, April 1st — 9:00am — Holy Easter Day Divine Service (No Bible Classes)
……….
……….
……….
……….
……….
……….
……….
……….
……….